Design a natural poolscape
Landscape designer Michael Dimitriadis explains how he creates a natural-looking backyard swimming spot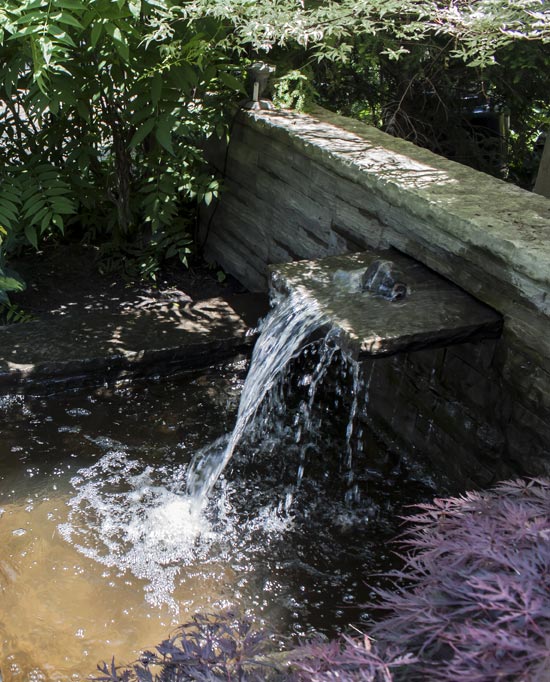 "It's the word 'pool' that fools you," explains landscape designer Michael Dimitriadis about his definition of a natural poolscape. "It looks like a pond in the woods, but it's actually a pool that you can swim in."
Homeowners are recognizing the aesthetic appeal and environmental benefits of less grass and more garden space in their backyards. Now Dimitriadis wants people to rethink the design of the traditional backyard swimming pool. The modern incarnation of the swimming space has dispensed with the typical sky-blue pool liner and flat expanse of heat-generating concrete. The contemporary pool is still made of concrete, but aesthetically, it appears to be a natural part of the landscape. Layers of natural stone surround the pool, with gardens planted in pockets here and there. You may even hear the gentle gurgle of a waterfall.
In this scenario, the landscaping isn't merely a visual enhancement that surrounds the pool area; it is an integral part of the pool's design. Here Dimitriadis describes how he creates a natural-looking poolscape.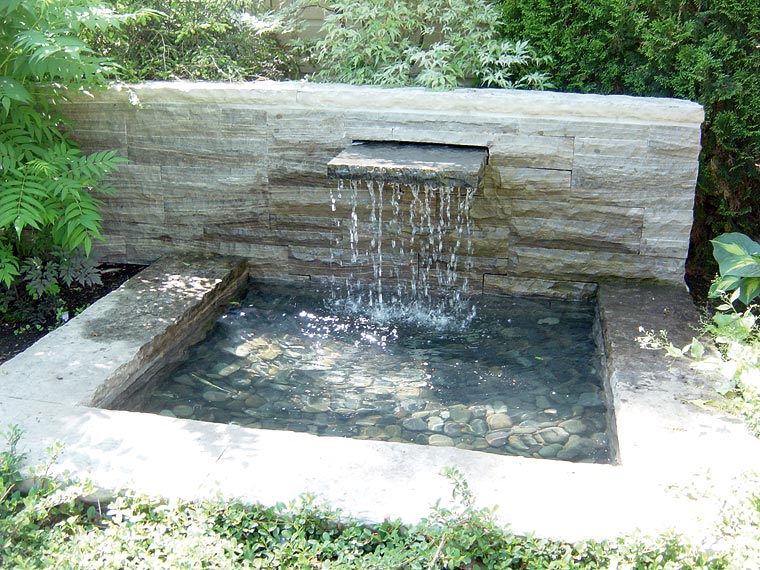 Planning
The design process starts with the typical site survey and calculations as they relate to the property line, heights and grades. Dimitriadis uses grades to enhance the natural look of the pool and create a pond-like appearance, rather than the traditional rectangle or square.
One element that drives the design is how the stairs – made out of chiseled stone or slabs of rock – flow into the pool in an artistic way. The rest of the pool is edged in stone, pieced together to create an intricate, natural-looking puzzle. "I place each rock carefully so that the pool becomes a piece of art," Dimitriadis explains. This means adding different heights, slopes and rocky outcroppings that give the appearance of natural rocks and water, without the typical coping that would surround a regular pool.
Planting
Dimitriadis likens the process of choosing plants for a poolscape to that of a painter choosing his palette. "You have to be thoughtful about what different plants will do and what they'll tolerate in a poolscape design," he says.
Working within budget and what's available at the local garden stores, he selects a combination of more durable plants like ornamental grasses, that can survive closer to the water's edge (and inevitable splashes), and more delicate specimens, like ferns, that are planted higher up and out of harm's way.
Progressing
In keeping with his vision of a natural poolscape, Dimitriadis says home owners should consider creating a more natural flow between the pool and the entrance into the home. The way many homes are currently designed, the sliding door to the backyard is found in the kitchen or the family room, and swimmers walk right into these spaces dripping wet. Dimitriadis recommends creating a space where swimmers can dry off and hang their towels – similar to a front foyer with cubbies and drawers. A storage bench can be used to hold towels and other outdoor essentials, while a heated floor instantly warms up shivering swimmers when it's cool outside.