Company overview top
Dimitriadis Design Build offers concept to completion landscape design for discerning clients. The Dimitriadis Design Build team brings a holistic approach to all projects, working with each client to personalize the space and ensure that form always follows function. This approach results in each square foot of space being optimized for livability and aesthetics.
The Dimitriadis Design Build team are pros at project management and work with a trusted team of experts to guarantee that each project will be done right, on time and on budget.
Michael Dimitriadis, owner and lead of Dimitriadis Design Build, is available for media interviews as an industry expert in:
Home building and renovations
Design for indoor and outdoor spaces
Landscaping and landscaping materials
Plant selection, including Ontario native species
Media appearances top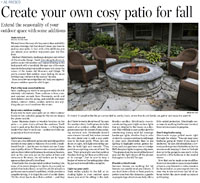 "Create your own cosy patio for fall", Toronto Star, September 27, 2014
Writer Tara Nolan interviewed Michael for his tips on extending patio season into autumn. (Click image to read story.)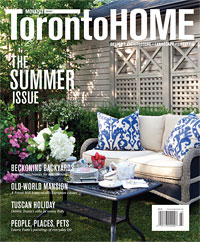 "Built for entertaining", Toronto Home, summer 2014
Writer Susan Kelly profiled a backyard revamp Michael completed for a couple in Toronto's High Park neighbourhood, complete with three distinct areas designed to optimize the space for entertaining.
Team bios top
Michael Dimitriadis, owner and design lead
Born and raised in Toronto, Michael has had a passion for design and the outdoors from a young age. He first trained to be a landscape technician at Humber College and has spent the past 25 years perfecting his craft.
Michael takes each of his projects from concept to completion. He works with clients to personalize their space from the very beginning, tying in both form and function seamlessly and integrating indoor and outdoor spaces. For him, form always follows function. He guides his clients in identifying the ideal liveability for their space and then recommends the design elements that will work best.
Michael specializes in high-end custom projects for discerning clients. He sees landscape design and gardening as an art form that can help express a client's personality and vision for their space. He enjoys working on everything from small gardens and backyards to whole home transformations where he works with a client and their architect from the outset of a home being conceptualized and then built.
Kurtis Watson, design execution and builder
Kurtis is Michael's right-hand man and an expert builder. With a diploma in renovation and construction technology and diverse experience in landscaping and house building, he has worked on countless projects from foundation to finishing.
He's most proud of two post-and-beam horse barns he built from hand-hewn logs and timber that featured heated concrete floors, electrical and water installations. Along with Michael, one of his most recent projects is a "man cave" built in a client's garage with beautifully-finished wood interior, aesthetic lighting and a seamless integration with the back of the house, which has an outdoor fireplace and stone finishes in the garden.
Story starters top
Michael Dimitriadis, owner and lead of Dimitriadis Design Build, is pleased to speak with media as an industry expert on stories covering home building and renovations, design, and indoor and outdoor spaces. He is also happy to assist in the development of a story and to connect media with homeowners whose redesigned spaces are feature-worthy.
Potential story topics include:
How to plant a low-maintenance cottage garden
How to add an outdoor kitchen to your patio
Building a man cave in your garage
How to extend the seasonality of your yard
Garden design trends worth the effort
Landscape don'ts
How to pick the right materials for your patio
How to make your front yard work with your front entrance
Pond-planning essentials
Secrets to edible landscaping
Media images top
High-resolution images of recent Dimitriadis Design Build projects are available for media use. For some samples of the type of images available, see here. Please contact us at 416.505.6510 or info@dimidesignbuild.com for high-resolution image access via Dropbox.
Media contact top
Please contact Dimitriadis Design Build regarding images, feature story ideas or an interview by filling out the form below or contacting us at 416.505.6510 or info@dimidesignbuild.com.