Planting ideas for the modern garden
Use these expert planting tips to help design your perfect garden
Walking into a nursery with its wall-to-wall plant selection can be an overwhelming shopping experience – especially if you aren't armed with a list. Here, landscape designer Michael Dimitriadis gives you some insider tips on the types of plants he chooses for his clients, and how to place them in the garden.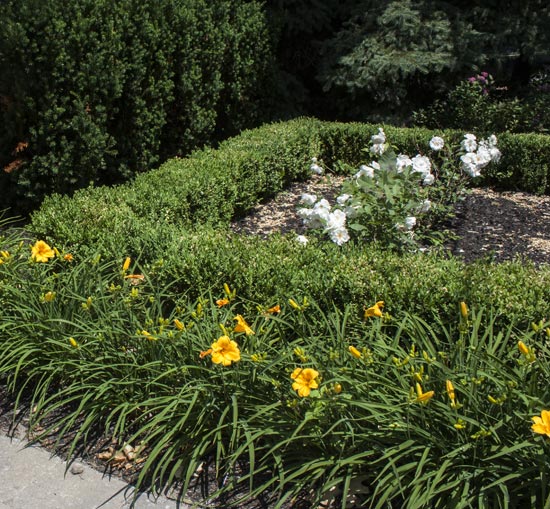 Create long, symmetrical lines
One of Dimitriadis' signature looks is to design gardens with long rows of plants (he refers to these as mass linear plantings) rather than in circular groupings. Inspired by the formal gardens from the Victorian era, Dimitriadis interprets the blueprints of yesteryear to reflect the clean, horizontal lines found in modern design.
One way to achieve this look is to plan for neat rows of colourful flowers framed from behind by a neatly pruned and clipped boxwood hedge, or a row of Hicks Yew.
Place your plants close together
Busy homeowners may say they want low-maintenance gardens, but there's really no such thing, says Dimitriadis. All gardens require maintenance and upkeep, but there are ways to minimize the work. Dimitriadis likes to select plants that grow lush and full, and then plant them close together. Besides the appearance of a flourishing garden, the practical advantage to placing plants close together is that it doesn't leave room for weeds. "Heuchera is an excellent example of a nice, densely leaved plant – it looks good all year whether it's flowering or not," he says. Heucheras also come in a variety of colours, from dark green to lime, rich reds and purples, and yummy shades of caramel.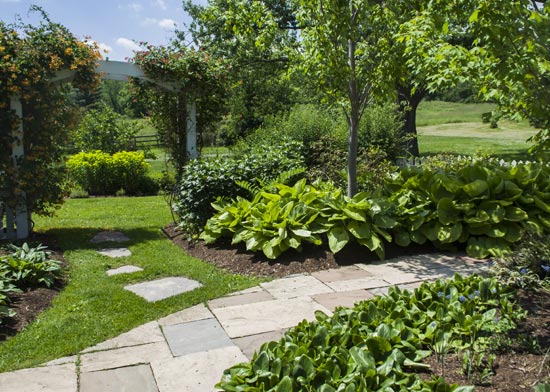 Focus on perennials
"Annuals are high maintenance, because they need to be replanted every year," says Dimitriadis. Perennial plants are generally dependable and will come back every year, provided that you plant them according to the conditions listed on the plant tag. Ornamental grasses may immediately come to mind as low-maintenance perennials because they've been touted for their drought tolerance. Dimitriadis agrees that these are attractive additions to the garden, but warns that you need to be willing to do a little maintenance every three years or so, because grasses grow outward in a ring causing the growth in the middle to look dead. Here are a few perennials that Dimitriadis recommends:
Foam flower (Tiarella cordifolia)
Hostas: "Because they're great space fillers and come in various shades of green."
Astilbe
Stella de Oro daylilies (Hemerocallis x 'Stella de Oro'): "Because these compact, dense clumpers will bloom right until September."
Euonymous
Pachysandra: "Because as a groundcover it's easy to grow and it's dense."
Plant for year-round interest
"If I'm going to plant perennials, I like to make sure that I'll have flowers from spring to fall," Dimitriadis says. One tip he likes to pass on to clients is to look at the garden throughout different periods of the growing season to see what's flowering and when. If there is a gap, he recommends heading to the garden centre immediately to purchase plants that are currently in bloom. That way you know that you'll have continuous colour the following year.